TA 2018 Year in Review
2018 is already coming to a close!!  This year really feels like it flew by for us.  Let's take a moment to step back and see all the exciting developments from the past year at our studio.
What a year it's been for our team.  We began 2018 mixing Season 3 of El Chapo on Netflix.  It was quite the experience finding the creative signature of the show's climactic 13 episode arc, with 40+ minute episodes giving us a full palette of characters and scenes.  We cannot thank the sound editorial team at Bright & Guilty enough, as well as the Bad Idea, Univision and Netflix teams for this wonderful experience.
We also had the unique opportunity to mix episodes of several shows for Wham Network on Twitch!  This is a super fun channel bubbling with fresh gaming lifestyle content.  We even got to sound design all the show graphics and transitions, creating unique 8-bit audio signatures for the differing shows.
Next, we got to sound design and mix an incredibly creative futuristic film that included fist fights, magic and weapons.  We can't go into many details about the film until it's released, but wow was this a fun one!!
As in previous years, we were able to design and mix many trailers for video game campaigns as well.  Some of the highlights included full campaigns for Hitman 2 and The Elder Scrolls Online.  We always have so much fun on these projects and love working with our partners at Dark Burn Creative.
We also had the great opportunity to work on lots of new videos with our collaborators at Muskrat Content, Red Bird Productions, Universe Creative and Working Nation.  These included a variety of videos for Paramount, TV Land, Banner Health, The Gates Foundation as well as the ongoing "Do Something Awesome" campaign for Working Nation.  We are so thankful to our many collaborators for all of these fun opportunities and more.
Our TA team expanded by one late this year!!  Sound Editor Brandon Schuster is the newest member of our team, and he's been a welcome addition both around the studio and on many of our projects.  You can check out his full bio on the About page of this site.
There are lots of exciting developments coming up in 2019, starting right away with our move to bigger rooms on January 1st.  These new rooms will be much more comfy and spacious, so please come on by for a tour to check them out!  We'll eventually post new studio pictures of them too.
Also, we have a brand new Transported Audio studio mascot!!!  We won't spoil the surprise, but be on the lookout on our social channels for a full reveal very soon.
Welcome new Sound Editor Brandon Schuster!
Brandon is from Georgia and moved to Los Angeles five years ago.  His passion for
movies, TV, music and audio all converged, leading him into a career of sound editing.
Brandon studied at the Conservatory of Recording Arts and Sciences in Gilbert, Arizona, where he
learned and crafted his skills before hitting the industry.  He went on to intern at Larson Studios, and
then directed/edited at an audiobook production company for two years.  Through all of this, his passion
for intricate workflow knowledge and processes kept on growing.
More recently, Brandon has assisted on longform reality and scripted content as well.  He has worked on
episodic television shows such as Catfish: The TV Show, Undeniable with Joe Buck, Battlebots and much more.
He also has credits as foley editor on movies such as Christmas Perfection, Deadly Shores, and Nanny Surveillance.
All of these projects have been essential in being able to hit tight deadlines with crews big and small.
Brandon is ecstatic to be a new member of the TA team where he can continue exploring his creativity
and work on high profile content with our growing team!
Transported Audio 2017 Year in Review
This year has been filled with incredible growth, development, amazing projects and a big studio expansion!  Looking back on it all, we have a great deal to be thankful for.
In early January, we moved into our new studio space.  It took us almost two months to get fully up and running, and the studio turned out great.  Feedback from clients visiting our facility has been resoundingly positive.
Later in January, we traveled to Sundance to watch two longform narrative projects Transported Audio sound edited and mixed, Playdates and Gentefied, premiere to the world!  It was an awe-inspiring experience.  Park City is such a charming town with lots of fun pockets to explore.  We also got to meet talented people from all over the world similarly in town for the festival.
As new projects started rolling in at our studio, we had the great pleasure of working on videos for: 
The US Army

Nissan

Star Wars Battlefront

Mass Effect

Elder Scrolls

Spike TV

Wagner Brakes

Avery Paper Products
In June, we upgraded our studio speakers to Genelecs, a huge quality jump from our previous JBL speakers.  Mixing in our studio immediately sounded 1000x better.
By August, it became abundantly clear that our team needed to expand.  Austin Chase came aboard as our new in-house Sound Editor and hopped aboard projects right away.  His devotion to improving his craft and bright attitude have been a breath of fresh air, bringing so much more than just his sound expertise to our team.  
The later part of the year brought some new areas of workflow expansion, including mixing VR experiences for Coca Cola and the US Army.  These were so much fun to sound design and tag team with Marc Weber, our talented VR mixer.
Instead of the year winding down to a close, the projects just kept on coming!  A sample of those we sound designed and mixed include:
Over 30 videos for Star Wars Battlefront 2

Numerous videos for Lawbreakers

Battlefield 1

Marvel games

Promos for Netflix, FX network, Amazon Prime and Lionsgate

Reebok

Budweiser

Walmart

Yelp

Lyft

Top Golf

California Closets

Tidal

The Soul Train Awards

Kaiser Permanente

The Gates Foundation

Ronald McDonald House

Education Through Music

A short film about Bruce Lee
We'd be remiss if we didn't thank our additional sound designers and mixers who have been instrumental in keeping our quality bar high and hitting various tight deadlines.  Kevin Senzaki, Richard Shapiro, Mitchell Lestner, Cody Flick, Paul Fonarev, Charles Moody, John Dion, Peter Bawiec and Joshua Johnson – you've all brought so much to our growing team and words cannot fully express how grateful we are for your continuing support.
Looking ahead, we have some very exciting things on the horizon in 2018.  Austin recently moved into our first Sound Edit suite at the studio, where we're going to treat the walls in his room soon.  In our main mixing studio, we're massively upgrading our Protools station to ensure it can handle the biggest, most intensive projects.  We're also re-tuning the monitors in this studio to make sure playback in the room sounds as perfect as possible.
Thank you for an all-around incredible year.  We'd love your feedback on it as well – what can we do to improve?  How can we make your projects sound even better?  What are you looking for in a sound team?  If you haven't already, please come check out our studio and let us know what you think.
We can't wait to build on everything with even more new people and projects in 2018!!  
Sincerely,
Eric Marks
Founder, Transported Audio
Creating a Hush Box
Hi everyone,
My name is Austin Chase and I'm a new sound editor here at Transported Audio! Eric brought me aboard in August and it's been a wonderful first few months. I've already had the pleasure of working on numerous exciting and unique projects during my time here. These include over a dozen Star Wars Battlefront II videos, some intense repairing of dialogue recorded in the 1960s and, more recently, designing and building a custom projector hush box for our studio! This blog post will primarily focus on the hush box project.
The purpose of this project was twofold: to keep the client projector at a low temperature, and to prevent the noise of the projector from becoming a distraction in our studio.
Projectors are essentially big lights that create a ton of heat and, in turn, need big fans to keep them cool. The easiest way to minimize this fan noise is to contain the projector inside a sound-insulated box. However, enclosing the projector also insulates heat, so it's necessary to create an intake/exhaust airflow system using computer fans. The bigger the fan blade, the slower and quieter you can run the fan. The downside to this is that it creates bigger holes in the box itself, allowing more of the projector's fan noise to escape. To solve this, airflow channels must be created to keep air moving in the right direction and contain the noise where it belongs: inside the box and away from the ears of anyone in the studio.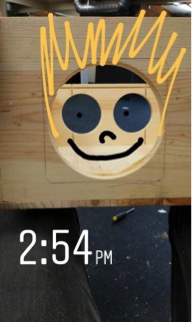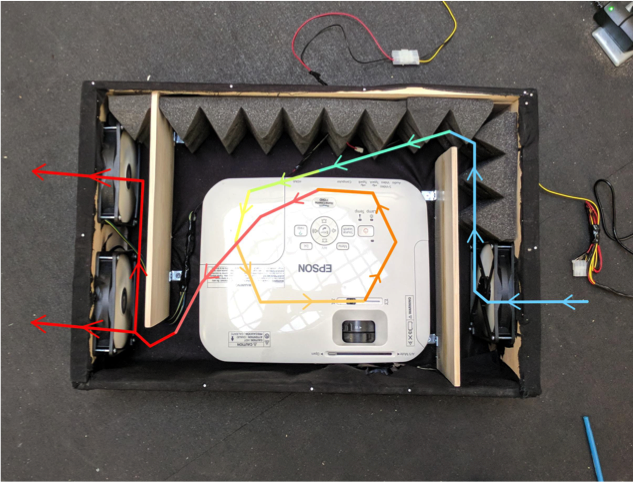 This project started months ago on internet forums and YouTube videos, where I slowly started to grasp what the best design would be for our needs. We came up with a plan and started gathering supplies. From powering the fans, to cutting holes in what used to be a wood wine box, we hit our fair share of technical hurdles. Two film/sound guys at Home Depot looking at hole saws is also just a ridiculous sight. Regardless, Eric and I did a solid job picking out the necessary tools and supplies.
Here's a diagram of the box as it was coming together. The intake fan on the right brings cool air into the chamber, while the two fans on the left pull hot air out of the box. The wooden slats on either side of the projector prevent noise from the projector's own fan from escaping out through the holes in the box.
During the design process, we realized that this box had to look good too. A giant wooden box in the middle of a mostly black studio would look dorky and unprofessional, so we decided to cover the box in a simple black fabric that we got from Michael's. This store also supplied our hush box lens, which is just the glass from a small picture frame (a genius idea that Eric came up with).
This project required a great deal of unfamiliar knowledge and skill, but we took our time and managed to slowly put this thing together without running hitting any major issues along the way. It's now up and running, but we are still making adjustments to the box- I imagine this will be an enjoyable work in progress for a while. One thing is for sure- each day brings new opportunities to learn completely new skills here at Transported Audio.
-Austin Chase, Sound Editor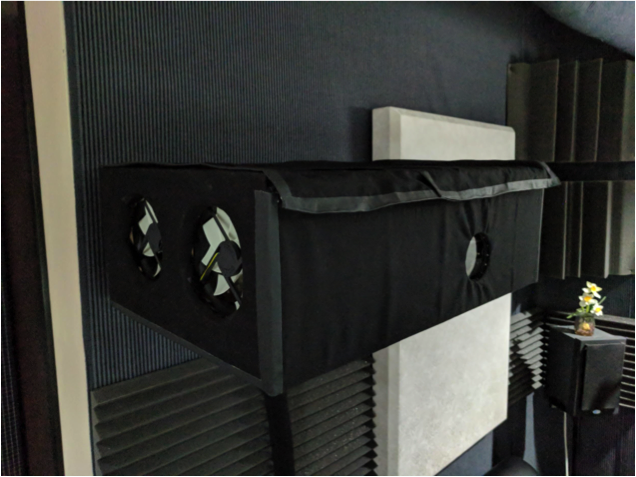 Strength in Numbers
Hey everyone,
We're very excited to share that the Transported Audio team is growing!!  We have a new dedicated sound editor aboard the team, Austin Chase.  Austin is very upbeat, talented and brings a wealth of skills to our many projects.  You can read all about him on our About page.
This summer has been a busy one!  We wrapped several more Lawbreakers videos, including sound designing and mixing the almighty Lawbreakers launch trailer, Skilled AF.  We were afforded lots of creative liberties on the project– it was an absolute blast to work on.
We're also in the middle of wrapping up our second 360 / VR mix, a project we can't share details about yet but surely will when it's released.  This unique format has provided some great opportunities to expand our workflow to include binaural mixing.
Among other projects, we recently mixed trailers for the games Elder Scrolls Online, Dirty Bomb, Pwnd, a short film entitled Bruce Lee: One Family, and branded content videos for UCLA and Ronald McDonald House.  We also got to mix an energy-pumping short film called Not Normal, directed by Matt MacDonald.
If you haven't already, come on by our studio to relax in the captain's chair while we play you a 5.1 demo!
More to come soon,
Eric
New Territory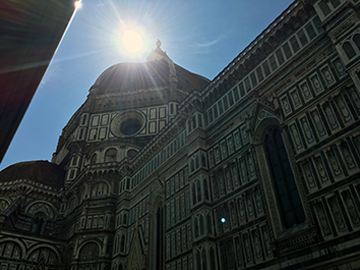 Hi everyone,
Apologies for the radio silence– there have been some exciting developments that have kept us very busy.  
First, the most important piece of news… we've moved into a new space!!  Our studio is now in a public setting, complete with a conference room, full kitchen, full time building security and more secure internet.  We spent months designing and setting up the space, so we hope you'll come by and let us know what you think!  We'll have studio pictures up on the website and social platforms soon.
We've also stepped up our equipment and plugin game.  We're now monitoring through Genelec 8030s, a significant sonic jump from our previous JBL stereo monitors.  Some of our new plugins include Pitch n Time, Izotope RX6 Advanced, several new Waves additions and other goodies.  
Also, I recently traveled to Rome and Florence for a little getaway.  It wasn't work-related, but I definitely found myself intrigued by all the unique sounds of the territory.  In Rome there were lots of police sirens, which differ significantly from what I'd expected (very different from London, for instance).  Florence was full of vespas and bikes, which gave the sounds there a flavor all their own.  Also, the birds in the Tuscany region were audibly different than anything here in the US.
Since returning, we've mixed four videos that released this week at E3!!  We're also finishing up sound on our very first 360 video.  Can't wait to share that one with you.
We're very excited to be in our new space and share more about some of the big projects we're working on.  We've been updating our social platforms pretty often, but going to jump back into this space a bit more as well!
– Eric